Large Cargo Shipping via Ocean Freight
Our ocean shipping service is ideal for large cargo and over-sized packages. With weekly sailings from Miami, our ocean freight service is a cost-effective choice for large purchases. Service includes shipping insurance and Customs clearance to give you peace of mind. We can consolidate multiple packages together to save you money and we will have your orders to you in 2-4 weeks. 
Ocean Cargo Shipping Rates
Ocean cargo shipping rates apply to the combined dimensional weight of all your packages that ship together in a consolidated shipment.
Shipping Rates are inclusive of freight, import documentation, and Customs clearance service.
| Cubic Feet | Rate |
| --- | --- |
| Up to 10 c.f. | $68 Flat Rate |
| Each additional c.f. up to 15 c.f. | $6.00/c.f. |
| Each additional c.f. between 15 c.f. and 70 c.f. | $3.35/c.f. |
| Each additional c.f. over 70 c.f. | $3.05/c.f. |
The dimensional weight in cubic feet is calculated as follows: LxWxH/1728.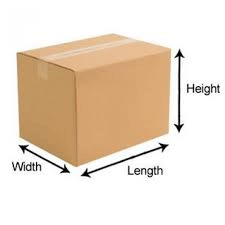 Shipping rates do not include Customs duty, Port Authority fee, Freight Insurance, other Government fees as applicable.
Typical delivery to the Cayman Islands: 2-4 weeks from the date we receive your instruction to ship.
All Rates subject to change without notice. Delivery times not guaranteed. Rates in KYD.
How to use the Ocean Shipping service
If you already have an e-box shipping account, you will use the same CBY# for Ocean Shipping. If you have not previously registered with us, please click here to create an e-box account. As an e-box customer, you can also take advantage of the e-box air cargo service for smaller packages or items that you need faster.
Step-by-Step Guide
1. Place your online order and use the shipping/delivery address provided below. Remember to include your CBY#.
2. Save the invoice for the order in your files, it will be required for Customs clearance. You can obtain the invoice by going to your Order History on the vendor's website, then Print to PDF.
3. Pre-alert your incoming order. The vendor will notify you via email that your order has shipped and will provide you with a tracking number. Click on the "Ocean Ship Pre-Alert" button at the top of this section of the website. Complete and submit the form, being sure to enter the tracking number from the vendor, not the order number.
4. When your order arrives at our Miami facility, we will notify you via email. You should also track your orders on your vendor's site to know when it has been delivered.
5. If you instructed us to Ship when you submitted the Pre-alert, you order will ship automatically. You will be notified via email in 2-4 weeks that your order is ready for pick-up or delivery.
6. If you instructed us to Consolidate when you submitted the Pre-alert, we will notify you as your orders arrive and hold them for up to 30 days. When your orders have arrived, you can instruct us to ship. You will be notified via email in 2-4 weeks that your goods are ready for pick-up or delivery.
IMPORTANT: Be mindful that the address in Miami for e-box air shipping is different than the address for ocean shipping.
Ocean Cargo Pre-Alert & Invoice Upload
This form requires the order Tracking Number. Submit this form once the vendor has notified you that your order has shipped and has provided you with a tracking number.
Customs Appointment of Agent Form
It is a mandatory requirement of the Cayman Islands Customs Department that all persons and companies importing goods into the Cayman Islands must submit to their clearance agent an Appointment of Agent form and a current photo ID. This will ensure that Mail Boxes Etc. can clear goods on your behalf. This only has to be done once, before your first order arrives in Miami.
You may obtain the form in any of the following ways:
– By clicking the link below to download the form
– By email request to oceanship@mbe.ky
– In person at Mail Boxes Etc.
To submit the form and photo ID via email, please send it to oceanship@mbe.ky.
Customs Appointment of Agent Form
Acceptable invoice for Customs
Commercial Invoice Checklist:
To be accepted by Customs authorities, a Commercial Invoice must:
1. Be legible. Low resolution images will not be accepted.
2. Indicate Vendor name, Consignee/Customer name, Itemized description of goods, Itemized purchase price, shipping fee (if any), total paid, order number and order date.
3. Correspond exactly to the contents of the package. If a vendor has short-shipped or split your order into multiple boxes, they will usually send you a revised invoice or correspondence. If necessary, you may include with your invoice any additional information pertaining to your order for Customs officials to review.
If you require assistance with your commercial invoice, please contact us and it will be our pleasure to assist you.
Ocean shipping address
Your name CBY#
c/o Mail Boxes Etc./GCM
8001 NW 79th Ave.
Miami, FL, 33166
(Miami or Doral are accepted)
Failure by the vendor to include the CBY# in the address may cause delays with your shipment.